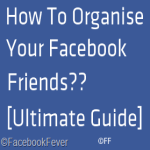 Facebook newsfeed is a great way to keep tracks of your friends,and pages but it becomes quit chaos when your friends circle expands.As your newsfeed will be full with your new friend's activities and updates.In that case,you might lose your best buddies and your favorite pages updates.So,today I am going to share many ways to keep updated with the particular Facebook buddy updates as well as updates from the pages you liked.
Organize Your Facebook Friends Using Facebook lists
Facebook lists are great ways to organize Facebook Friends. There are three type of lists the social networking site have at present and these are:

Facebook Default list
Facebook Smart List OR Custom List
Facebook Interest List
---
#1 Start Using Facebook Default List
Facebook have three default lists to organize your friends - Close Friends,Acquaintances, and Restricted.These three default Facebook list have different role.Let me explain one by one.
Close Friends:  By adding friends to your 'Close Friend List' you will be notified every time when they update status,add photos and videos in your notifications as well as newsfeed.To add any best buddy to this list just hover over 'Friends' link in his/her profile and hit Close Friends from drop down menu And to see your close friends updates and activities,just click on the Close Friends list at left side of your homepage.
Acquaintances: This list is for the folks,whom you don't need to stay close with their updates. By adding folks to this list,you will never get their updates and activities in your newsfeed.However,they will be notified about your updates until and unless,they didn't add you to the same list in their profile.
Bonus Tip: If you wants to drop multiple friends in Acquaintances list,then this Facebook Friend Organizing tool will be very helpful to you.
Restricted : As the name refers,this list is for the folks you have added as friends but don't wants to share your share your updates and activities,like your Boss
.When you add friends to Restricted list,they will only be able to see your Public Posts.(That you choose while updating any story on Facebook).
So,these are the Facebook default lists to organize Facebook Friends. Now, you can check out the updates from the people you added to these list. And to check updates from these list just go to your Facebook left sidebar and find the appropriate list you wants to check updates. OR you can head to this direct link to access your default friend list. Do you know about these list before?Share with us in the comments.Lets become more expert in Facebooking
---
#2 Start Using Facebook Smart Lists OR Custom Lists
There's one another way to organize Facebook Friends and that is Facebook smart lists are the lists that update automatically based on the common interest of your friends like Education,Work Or City.For example,you are from San Francisco then you will have a list of all Facebook friends living in San Francisco.Facebook smart lists update automatically as your friends from San Francisco update their profile (timeline).If any new friend from the same place becomes your friend then he/she will automatically included in the list.In the mean time,you can edit any smart list and add/remove any friend from it.You can also choose the update types you wants to be in the list.
Bonus Tip : Now,you can even choose the Age Range in case of smart list of your School,College etc. By choosing the age range,friends from your School who has age below or above you mentioned in the smart list will not be added in it.Hope you got my point !!
---
How To Edit Any Smart List?
To edit any smart list,just go to facebook.com/bookmarks/lists.You will be shown all your list default as well as smart.Just hit any to edit it and you will be shown the list again click "Manage List" and hit Edit List from the drop down menu.For choosing the updates type click on "Choose Updates Types'' and select the type of updates.
Bonus Tip 1:You can add any list to your homepage left sidebar i.e Adding them to favorites so that you can easily access them right from your homepage.To Add any list,just hover over it and hit Pencil button.Now,rearrange them from left sidebar.I have written an awesome guide on adding pages,apps to your facebook favorite box on LatestOnNet.com,I recommend you to read it for more info.
---
How To Create And Edit Custom List?
You can also create custom list for easy sharing with them and to see their updates at one place.To create a new custom list,just go to Facebook bookmarks and hit Create list from the top and choose your friends to add in it.You can edit it in a similar way as we edited the smart lists above.Hope you get it.
---
#3 Facebook Interest List [Recommended Feature For Everyone]
This is my favorite and newly launched feature by the social network site not only to organize your Facebook Friends in better way but also to make your newsfeed like the personalized newspaper..you choose What updates you wants, from where you wants and it will be delivered!
Facebook interest list – as the name refers allow you create,subscribe to existing Interest List on any topic/Interest.Interest Lists are great way to stay updated with the topic you follow by subscribing to existing Interest lists.Its like your personalized newspaper with your favorite topics.I have written a full guide on creating Public and private Interest list and how to keep updated with your niche.Read it for more info on Interest Lists. This feature is just awesome to organize Facebook Friends.
I have also created a Public Interest List for you guys to keep you updated with the Latest Facebook News,Updates And Resources.So,don't forget to subscribe it to get Latest updates directly in your newsfeed.
So, these all are my ways i uses to organize my 4000 Facebook friends in an appropriate way so that i don't miss anything from anyone. Now, its your turn to share How you Organize your Facebook Friends? Share with us in the below comment section.
Free Subscribe to Our Email Newsletter to get our Latest Similar updates directly in your inbox!
Recommended Read:
How To Secure Your Facebook Account?
What is Facebook Test Account?