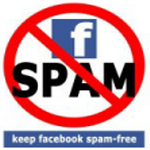 Article Updated : 19 October 2014
What are Facebook Spam Applications?
A Spam Or Rogue application is a Facebook application which is developed by someone (Spammers) with false or fake intention. The main goal of such application is to grab user's personal and account data.  The user data stolen by spammers is use to spread spam, scam,  malware on the site through the Facebook infected account. If your account gets infected with any spam, it will automatically start infecting your friend's account too by sending malicious links in the chat, wall and many times as a status too which encourages them to click on the spam link in the status. So, never and ever click on the external link, even if the links are sent by your trusted friends because it's not your friend who is  sending these links but probably some spam applications.
The best way to protect your Facebook account from these spam applications is to completely avoid them. Facebook clearly mentioned in a recent blog post  that the sites/extensions that claims to show you who's viewing your profile, change the color of your profile or help you remove your Timeline. These features don't exist.
And if you want to use/try any third-party application then you should always keep the following things in mind.
 Before allowing any third part app,
Do check out the app description.
Who is the developer of it?
What purpose of creation of the app?
What can be posted by the app on your behalf?
And most important thing,
Which of your personal information this app will access.
And all this information they show you while allowing apps in your profile.
Tip: While allowing any third-app, don't forget to check Who can see the posts posted from this app i.e. friends, public or custom from the drop down menu.
Control Your App Privacy Settings
Check your permission you have granted to installed third-party apps. You can access all your installed Facebook applications by click on the drop down menu near home button and then Privacy settings, then navigate to app section OR  just visit App Privacy Settings for direct access. Here, you will be shown all your installed Facebook applications. Just click on 'x' to completely remove any application and click 'Edit' next to the app to change Privacy settings for particular app.
Now, when you click 'Edit' next to any app to change privacy settings. It will show many information like - your last time when you used that particular app, what your personal information this app stores, last access data etc. Now you got an idea about the particular app, whether the app is worthy to keep or should be deleted. If you think, it's of no use, just hit the Remove App link at the bottom. The spam applications are like Who views your profile? According to Facebook policies it's not allowed to share who has viewed the profile, so all such apps are spam.
How to Report a Facebook App Or Game
If you think about a particular app that it's SPAM, please give some seconds to Report it to Facebook. So that no more user get trapped in this spam app. Just follow these steps to report a Facebook Spam App.
Click drop down arrow, at the right of any Facebook Page and select settings Or click this direct link, it will directly take you to the App settings.
Click Apps from the left side tab.
Click the name of the App or game you wants to report to Facebook and then click on the 'Report App' link at the bottom.
At last I would like to say, check your App privacy settings time to time. Application developer can change the permission requesting at any time. And don't allow apps who requests:
Complete access to your Facebook Account - Obviously, these type of Apps are big danger to your Facebook Account.
Requesting Access to chat - These type of apps puts Spam links in the messages of your friends.
Requesting right to manage your page - Obviously if these type of apps got the right to manage your Facebook pages, they'll start publishing spam posts with malicious links so that more and more users get trapped in to their spam.
So, it's all about how you can protect your Facebook account from Spam applications. We recommend you to read our Ultimate Guide to Facebook Privacy And Security (Long detailed post). If you like our post, then please give some time to share it among your social circles. And if you have any query about this giant social networking site, don't hesitate to put it in our comment section. Stay subscribed to us for the Latest Facebook Spam Applications Watch Updates.